Looking for books to give Walker for Christmas, I spent an hour browsing in Barnes and Noble this afternoon. What a fun time thumbing through all of those books my boys used to love.
Two of their favorites were
The Bear Scouts
and
Go, Dog. Go!
Walker already has those. We gave them to him the Christmas before he was born. I can practically recite them from memory.
"Goodbye, Bear Scouts. Good luck. Have fun. Isn't Dad going with you, son?"
"Not this time. We don't need Pa. We've got the Bear Scout Guidebook, Ma. It tells us all we need to know about camping out and where to go."
Mema Martha hated that book. She thought it poked too much fun at the father figure. My boys loved it.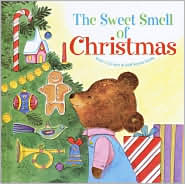 When Walker gets here for Christmas, we're going to enjoy reading
The Sweet Smell of Christmas
. I had to buy a new copy. My boys and I scratched and sniffed the apple pie, candy cane and gingerbread boy so much that we wore that book out.
By the time Ben came along, he probably wondered what it was that he was supposed to be smelling. Guess he'll have to take a turn reading with Walker.